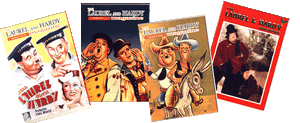 The Helpmates tent is a Sons of the Desert tent based in Gillingham, Kent. Their Oasis number is 25. They are one of the best tents for commitment and Laurel and Hardy knowledge. Members include Lois Laurel Hawes, Stan's daughter, and Norman Wisdom. They produce a full colour magazine of about 14 A5 pages every 3 months. The editor is 'A.J. Marriot' and second in charge in 'Rob Lewis'. Check out the website: www.laurelandhardy.org
Ad blocker interference detected!
Wikia is a free-to-use site that makes money from advertising. We have a modified experience for viewers using ad blockers

Wikia is not accessible if you've made further modifications. Remove the custom ad blocker rule(s) and the page will load as expected.