Lois Laurel Hawes was born on December 10, 1927 in Beverly Hills, California, USA. Her parents were Arthur Stanley "Stan" Jefferson and Lois Nielson. She had a very happy childhood and recalls sailing on the family yacht. Lois often says that her father loved boating and fishing. She also went on set of Laurel And Hardy form time to time. In the picture to the right, you can see a ten year old Lois with her Dad on the set of "Way Out West".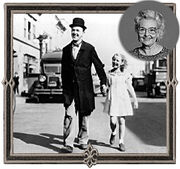 Ad blocker interference detected!
Wikia is a free-to-use site that makes money from advertising. We have a modified experience for viewers using ad blockers

Wikia is not accessible if you've made further modifications. Remove the custom ad blocker rule(s) and the page will load as expected.