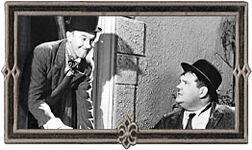 1930
Directed by James Parrott
Officer Kennedy is about to lose his job after 42 robberies had happened, but never did any arrests. So he finds Stan and Ollie sleeping in the park and asks them to pretend to be robbers so he can keep his job. They reluctantly agree, and they have a whole long time of trying to get inside the Chief's house. They pretend to be cats and go inside and spook the watcher (James Finlayson) and has the police come, Stan and Ollie escape while Officer Kennedy goes inside, and he is caught holding the bag and loses his job.
Ad blocker interference detected!
Wikia is a free-to-use site that makes money from advertising. We have a modified experience for viewers using ad blockers

Wikia is not accessible if you've made further modifications. Remove the custom ad blocker rule(s) and the page will load as expected.