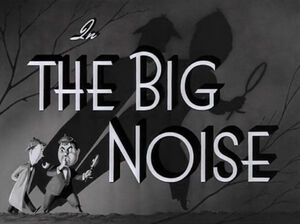 The Big Noise is a 1944 feature film starring Stan Laurel and Oliver Hardy.
Summary
Janitors Laurel and Hardy are cleaning the office of a detective agency. They answer a telephone call from an inventor who claims to have created a destructive bomb he calls "The Big Noise." They pose as detectives and move into the inventor's home, where they must contend with his eccentric behavior, his oddball widowed aunt who takes a fancy to Hardy, and his misbehaving nephew. The inventor's neighbors are crooks who are eager to steal the new bomb.
Laurel and Hardy hide the bomb in a concertina and steal an airplane to bring it to Washington. However, the airplane is a remote control target used by the U.S. Army for gunnery training. Laurel and Hardy barely escape by parachuting to safety over the Pacific Ocean, and they dispose of the bomb by dropping it on a Japanese submarine.
Cast
Stan Laurel as Stanley
Oliver Hardy as Oliver
Arthur Space as Alva P. Hartley
Doris Merrick as Evelyn
Esther Howard as Aunt Sophie
Robert Blake as Egbert Hartley
Veda Ann Borg as Mayme Charlton
Frank Fenton as Charlton
James Bush as Hartman
Philip Van Zandt as Dutchy Glassman
Robert Dudley as Grandpa
Edgar Dearing as Motorcycle Cop